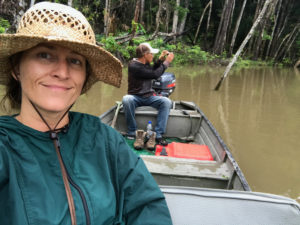 My last visit to the Rupununi was much different than prior visits.  Typically, I visit the interior during the Dry Season, when the river is low enough to walk through.  Not this time!  With the Rainy Season in full throttle, the rivers had risen an amazing 30-40 feet in all directions; swelling over the banks and flooding into the savannas.  Much like the disappearing river banks that line the Rupununi, the giant otters were also nowhere to be found, as they typically follow the fish into the flooded savannas and seek refuge on dry patches of land until the river recedes.
Although the absence of the otters on the rivers saddened me, the reassurance of the much needed rains returning to the region balanced everything out.  It is comforting to know that when the rains stop this year, the rivers will return to their curvy channels with an abundance of fish, along with happy, healthy otters.
The trip was not a waste by any means, even with the lack of otter observation.  With each visit to the interior, I meet new and wonderful people who are eager to become involved in the project.  Yupakari Village hosted my stay during this trip and I cannot say enough great things about the accommodations and hospitality provided. Yupakari is the home base of the Caiman House; a facility supporting years of caiman research and giant river turtle rehabilitation programs.  In addition to their current research projects, Yupakari has extended an offer to support the Save the Giants campaign!  Currently, plans are in place to offer a designated otter research masters or PHD student position in the village…exciting!  The student would work with local villagers to conduct otter survey work and promote a greater awareness of the otters throughout the region.  Stay tuned for details on this exciting development.
Kenneth is currently working on the organization of a one week training workshop, which will teach villagers throughout the interior the standardized methodology for giant otter surveys.  After the training workshop, we will have the ability to extend the otter survey into multiple locations, allowing for expanded data collection and a broader understanding on the distribution and health of the otter population in Guyana.  Villages who wish to participate in the survey will be compensated for their hard work and contributions to the project.
In January, Save the Giants will conduct the annual, 3 week otter survey out of Yupakari Village.  With the additional assistance of experienced Yupakari residents, we will have the opportunity to put more eyes on the river and cover more "ground" than we have in prior surveys.  The Save the Giants team is certain that 2018 is going to be an otterly fantastic year!