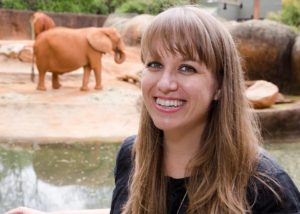 Creature Conserve and Save the Giants is honored to welcome Becky Sheel to the team! Just finishing her masters work at Georgia Tech in digital media with a focus on animal conservation, Becky has already made huge contributions in the field.  Working with the IUCN and other science affiliated organizations, Becky reconstructed the Red Panda Network's website, including an interactive map of red panda population trends.  Be sure to check out her work in the links below.  Citizen Science is a growing hot topic in the conservation world and Becky created a site for Audubon, which allows people from all over the world to input data.  In addition, Becky researchers the efficacy of drone usage in conservation efforts.  She recognizes the importance of visually appealing, interactive graphics in not only explaining your project's work, but as important tools used to explain to donors, gov't, and the public what your work is accomplishing in terms of conservation.
Moving forward, Becky will be analyzing the field data collected on giant otters and constructing a similar range-wide population map, similar to the one created for the Red Panda Network.
The Save the Giants team is so grateful to have such innovative and compassionate thinkers onboard with our mission.  Welcome Becky!
YOU HAVE TO CHECK OUT HER WORK…IT IS AMAZING!
http://www.prism.gatech.edu/~rscheel3/portfolio/red-panda.html
http://www.ctaudubon.org/citizen-science/#sthash.yZ1ny4iY.g1sVIug3.dpbs