Christina Ward is an artist and life-long animal conservationist. With a background in animal management and wildlife rehabilitation, Christina has worked in the animal care field for over a decade while creating artwork to express her love of the natural world.
​Her work in this field began in 2007 when she accepted an offer to oversee the development of Hampton Island Organic Farm and Wildlife Center, located on a pristine island off the southern coast of Georgia and focusing on the care of endangered species in the area including indigo snakes, gopher tortoises, and diamondback terrapins. Christina continued her work in wildlife rehabilitation from 2008–2011 while serving as the head of animal care at Sandy Creek Nature Center in Athens, GA, where she oversaw the wildlife rehabilitation and education programs.
In 2012, Christina assumed a position as a swing keeper in the mammal department at Zoo Atlanta, where she worked with a range of animals including giant pandas, elephants, rhinos, and tigers. Although each and every one of the animals under Christina's care inspired her involvement in various conservation initiatives, the two giant otters obtained by the zoo in 2015 changed the course of her life. In early 2016, she collaborated with Dr. Lucy Spelman on a giant otter population survey, conducted from the Karanambu Lodge on the Rupununi River, Guyana. Energized by this experience and with the hope of raising money to contribute to the continuing otter conservation work in Guyana, she started her own business: Colors for Conservation. The proceeds from its sale of original artwork and merchandise go to support conservation-based organizations with a mission to spread awareness about animal conservation. In early 2017, she returned to Guyana to lead the second otter population survey, sponsored by Creature Conserve, a non-profit organization that brings artists and scientists together to foster informed and sustained animal conservation.
​She now serves on the Creature Conserve board and returned to Guyana in the late spring of 2017 to evaluate the status of the giant otter monitoring survey and make plans for the future of this program. With the hopes of expanding the current giant otter survey across a broader and more comprehensive study range and encouraging greater participation among local communities, Christina launched the "Save the Giants" initiative.
​Christina has a B.S. in Natural Resource Management from the University of Georgia and was recognized by the State of Georgia as a registered wildlife rehabilitator from 2008 to 2010.
Bridgette San Marco is a biologist, conservationist, behavioralist and giant otter enthusiast, who has worked with a wide range of different taxa in zoological facilities for over seventeen years. In addition to her work with Save The Giants, Bridgette is a giant otter biologist at a zoological facility. With several years experience in otter biology, husbandry and behavior, Bridgette uses this information to help with the field research of the species but also in sharing that knowledge with others to inspire a love of otters as far and wide as possible.
Dedicated to help conserve wild giant otters and their habitats, Bridgette joined the Save The Giants team in hopes to help research and protect possibly the last stronghold for giant otters, the beautiful landscapes of Guyana. Bridgette does her best to educate people around the world about this amazing species and what they can do to help protect them. Globally we all need to be more cognizant of how our actions effect the environment around us. People mine for natural resources all over the world, by doing your part in your own backyards you'll be helping species worldwide.
Bridgette has a B.S. in Marine Biology from the Florida Institute of Technology.
Oswin Ambrose, Field Researcher
Oswin Ambrose, "Oz," a Macushi Amerindians native of Yupakari Village, serves as Save the Giant's head field researcher.  Growing up in Yupakari, a land sandwiched between the Kanuku and Pakaraima mountain ranges, in the midst of the Essequibo and Amazon basins, Oswin was immersed in the all of the rich biodiversity that Guyana has to offer. From a young age, Oz enjoyed spending time on the river, bird watching and of course, looking for giant otters.  As an experienced naturalist and boat captain, Oz has an uncanny ability to locate and identify the many species of birds, amphibians and mammals that inhabit this region…especially giant otters!  Oswin, with his expertise in the field, his giant otter locating "6th sense" and his winsome sense of humor, which is guaranteed to lift spirits, is an invaluable part of the Save the Giants team.  When Oz is not leading guided tours or tracking otters, he enjoys drawing, playing football and assisting his sister in her work as a nurse at the local Lethem Hospital.
Ali Kuehn, Board member Ali Kuehn recently earned her master's in teaching from Miami University through their Project Dragonfly program.  Her coursework focused on storytelling as a tool for conservation and indigenous storytelling as a source of conservation knowledge.  During her masters program Ali travelled to Guyana and fell in love with the country, it's people, and it's wildlife and this experience led her to become involved with Save the Giants.
​In her daily life, Ali is a classroom educator for the conservation non-profit Texas Wildlife Association, working with students k-8th grade to educate them about wildlife, conservation, and land management.  She is a former zookeeper with 18 years experience caring for a wide variety of animals, including otters.
Ruth Steel Mock, Board Member
Ruth Steel Mock, Board member Ruth Steel Mock is a wildlife conservationist. She earned her bachelor's degree in Behavioral Ecology at Hampshire College studying wild mouse lemurs in Madagascar and her doctorate at Duke University in Biological Anthropology and Anatomy studying the behavioral ecology and conservation of the endangered Udzungwa red colobus monkeys of Tanzania. Ruth spends half of her time as a zoo keeper and research coordinator at the Sequoia Park Zoo where she works with North American river otters and over 20 other species. She also works with native injured and orphaned animals at the Humboldt Wildlife Care Center until they are released back to their wild homes. She is part of their Promoting Coexistence Committee and develops and implements curricula in local schools and at other community events that teach children and adults how to live peacefully with native wildlife. As part of their mission, she also helps solve human-wildlife conflicts. Ruth's love of otters and background in teaching, research, and conservation inspired her to interview for a position on the Save the Giants board.
Jennifer Bucolo, Special Projects Manager
Jennifer Bucolo is our project manager currently working in the field in Guyana. Jennifer is a North American who has relocated to South America and now lives in Guyana full time working to protect the people and the environment. She has a Bachelors degree in Sociology, Social change, and Environmental Science from Lesley University in Cambridge, MA. She spends most of her time working to strengthen the bond with the community in Yupukari Village as well as it's many neighboring villages. She is responsible for all reoccurring projects including international conferences, social media, websites, staff, scheduling, community relationships, etc. Jennifer previously worked for the U.S. government as a social worker in Philadelphia as well as in the green energy industry in Boston. Her current goal is to protect the wildlife of Guyana's interior as well as support the people as much as possible. She is dedicated, reliable, and consistent in her goal strategy.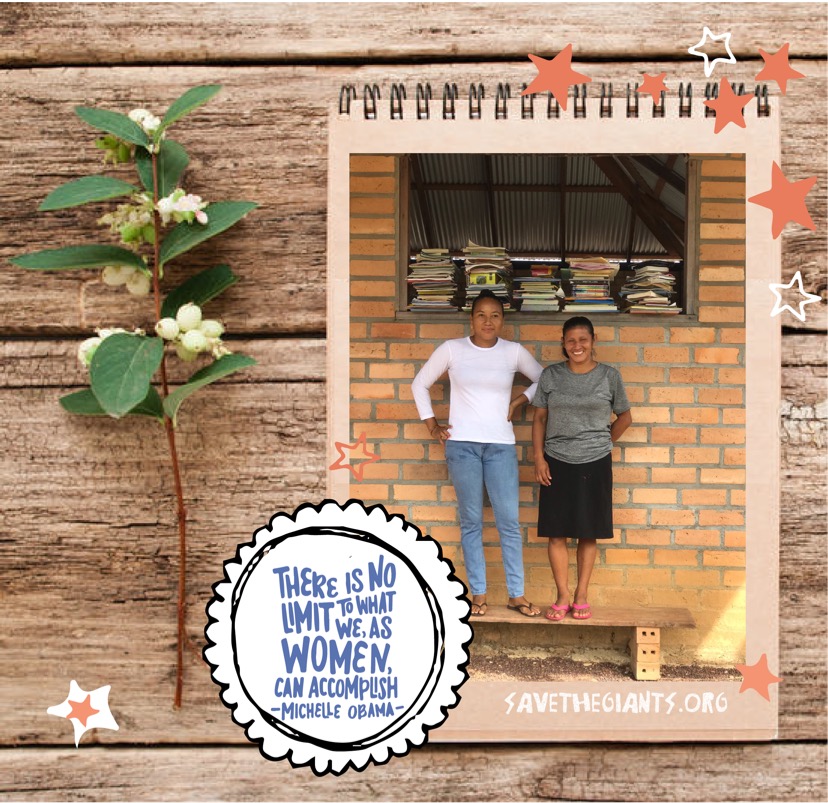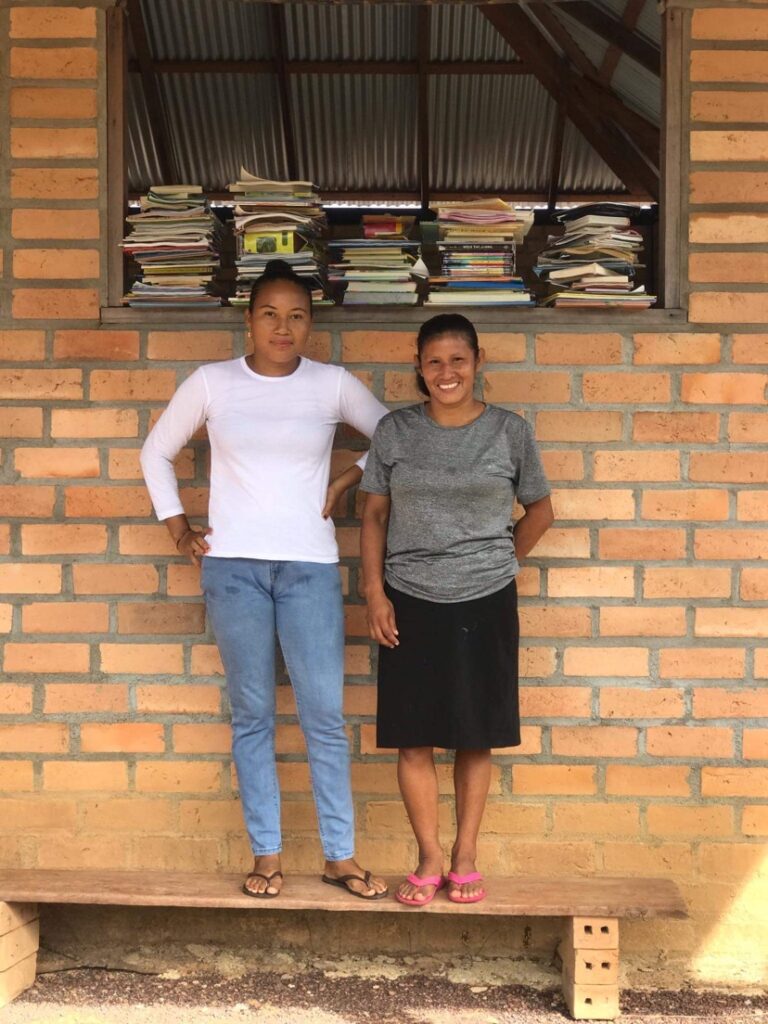 Kelly and Lorie (left to right) are 2 of the newest members of the STG team. Kelly and Lorie both participated in training during the November 2019 workshop and excelled in their training. They will be instrumental in assisting with not only the population surveying and research side of things but also as ambassadors of conservation and protecting wildlife in the community.

One of our highest priorities is incorporating more women into our work in Guyana. Research has shown that empowering women in developing countries through income building opportunities creates more stable families and contributes to increased education and overall health. According to the United Nations, women's economic empowerment gives them "control over their own time, lives and bodies; and increased voice, agency and meaningful participation in economic decision-making at all levels from the household to international institutions."